SNOW GARDEN
The Snow Garden is Ishiuchi Maruyama Ski Resort's new attraction that will allow everyone, including non-skiers/snowboarders, to fully enjoy the snowy mountains.
The snow complex features a Dome Tent and Snow Terrace, where you can relax in an open space that overlooks the extensive snowscapes of the Uonuma plain and the Echigosanzan mountains, in addition to a cafe and snow activities.
2021/22 season is closed.
A magnificent view from Snow Terrace
From the Snow Terrace, you will witness the gigantic panorama of the Uonuma plain and the Echigosanzan mountains covered by pure white snow.
Sea of clouds or crimson colored the Echigosanzan mountains at sunset can be seen when the weather conditions are met.
Dome Tent
The Dome Tent presents you with a unique experience, the feeling of becoming one with mother nature and comfortability integrated.
The dome is equipped with tables and chairs so you can appreciate the snowscape while relaxed on a chair with your family or friends in a private space.
* Guests with advance booking prioritized.
* Booking accepted until 4:00 P.M. of the previous day.
Reception / Café (Austria Snow House)
The cafe is the entry point of the Snow Garden. We accept your check-in and sell a variety of meals here.
Guests can stay here during adverse weather conditions. A wavering flame in the grate will keep you warm and relaxed.

Menu
We have our specialty, a cute but wild pancake baked on a skillet and a takeout menu that you can bring in and enjoy at the Snow Terrace and the Dome Tent at outdoor area.
Café Menu (Japanese text only)
For more information (Japanese text only)
Snow Activities
The Snow Garden offers various activities, which are enjoyable even without skis.
From children to adults, anyone can enjoy 100% natural snow to the fullest.

List of Activities
Snowshoeing, Snowracer, Sled, Tubing, Snowbike, Air board, Sponge toys, and free space to play with snow.
How to spend a day in Snow Garden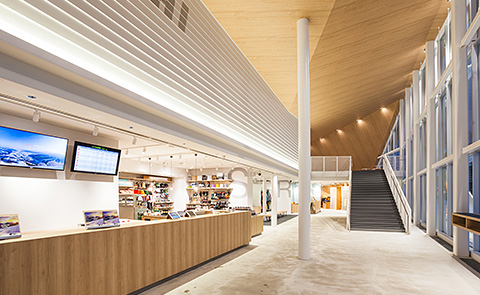 Resort Center
On arriving at the Snow Garden, the Resort Center is the first point to visit.
The center provides information and offers a variety of equipment rental and goods to buy.
We will help you enjoy your time on the snow mountain even if you came empty-handed!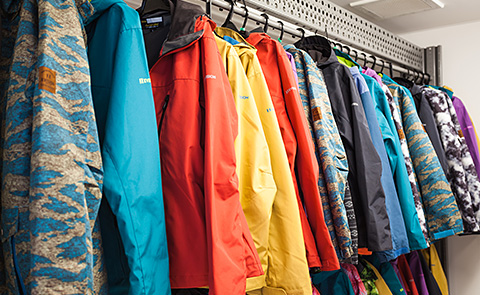 Gear Rental (Resort Center)
We offer a variety of snow wear and boots for your comfortable time in the snow.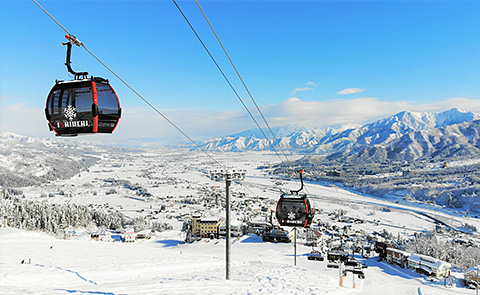 Gondola Lift (Sunrise Express)
Our highly advanced gondola cabin will take you to the Snow Garden.
Please enjoy the aerial walk with a superb view from the comfortable fully glazed cabin.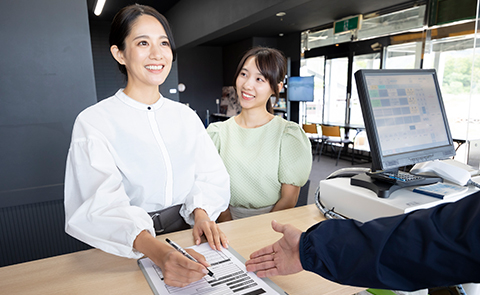 Reception (Austria Snow House)
Check in here to visit the Snow Garden.
You can order takeout food here and enjoy the snow experience in your own style.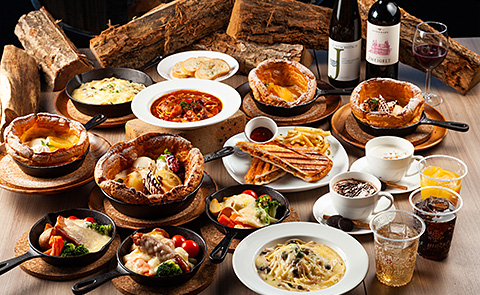 Lunch
Casual dining with a cafe-style toastie or pancakes or spend a luxurious time with raclette cheese and Austrian wine.
We offer a variety of light meals and drinks to suit to your style.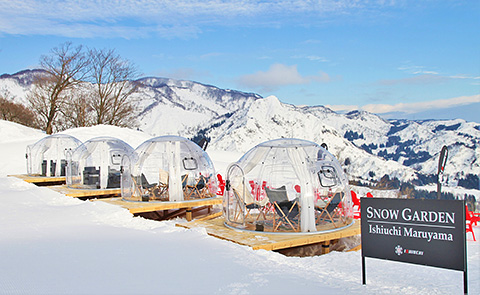 Dome Tent
The Dome Tent that is the symbol of the Snow Garden is fully equipped with heaters and Wi-Fi connection.
The perfect combination of being in nature and being comfortable allows you to enjoy a magical time in the snowy mountains.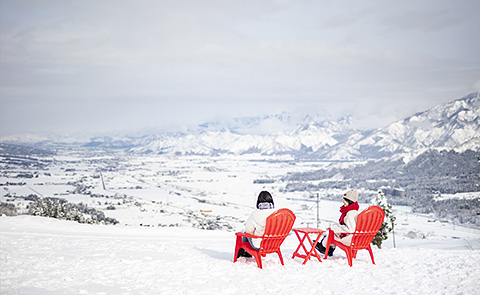 Snow Terrace
With the picturesque snow landscape below your eyes, the open-air terrace seat brings you a refreshing breeze and warm sunshine.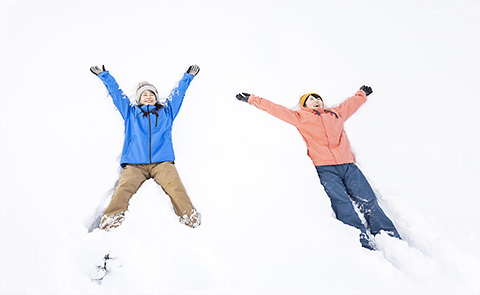 Snow Activities
We prepare many activities where you can fully enjoy the natural snow in silvery white plains.
Adults, as well as children, can fully immerse themselves in winter as if they were children again.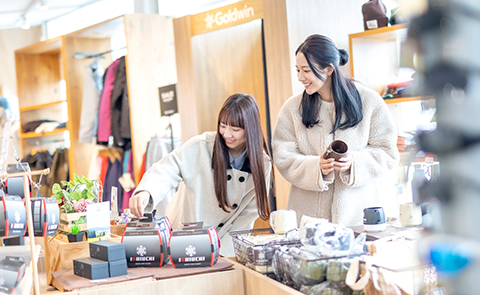 Shop (Resort Center)
Before leaving, please stop by the Resort Center again.
There is a free lounge convenient for meeting or you can enjoy shopping here, where you will find original goods.
Visitor Information
Scheduled opening period: December 25, 2021 to March 27, 2022 (subject to change)
Operating hours: 10:00 A.M. to 4:00 P.M.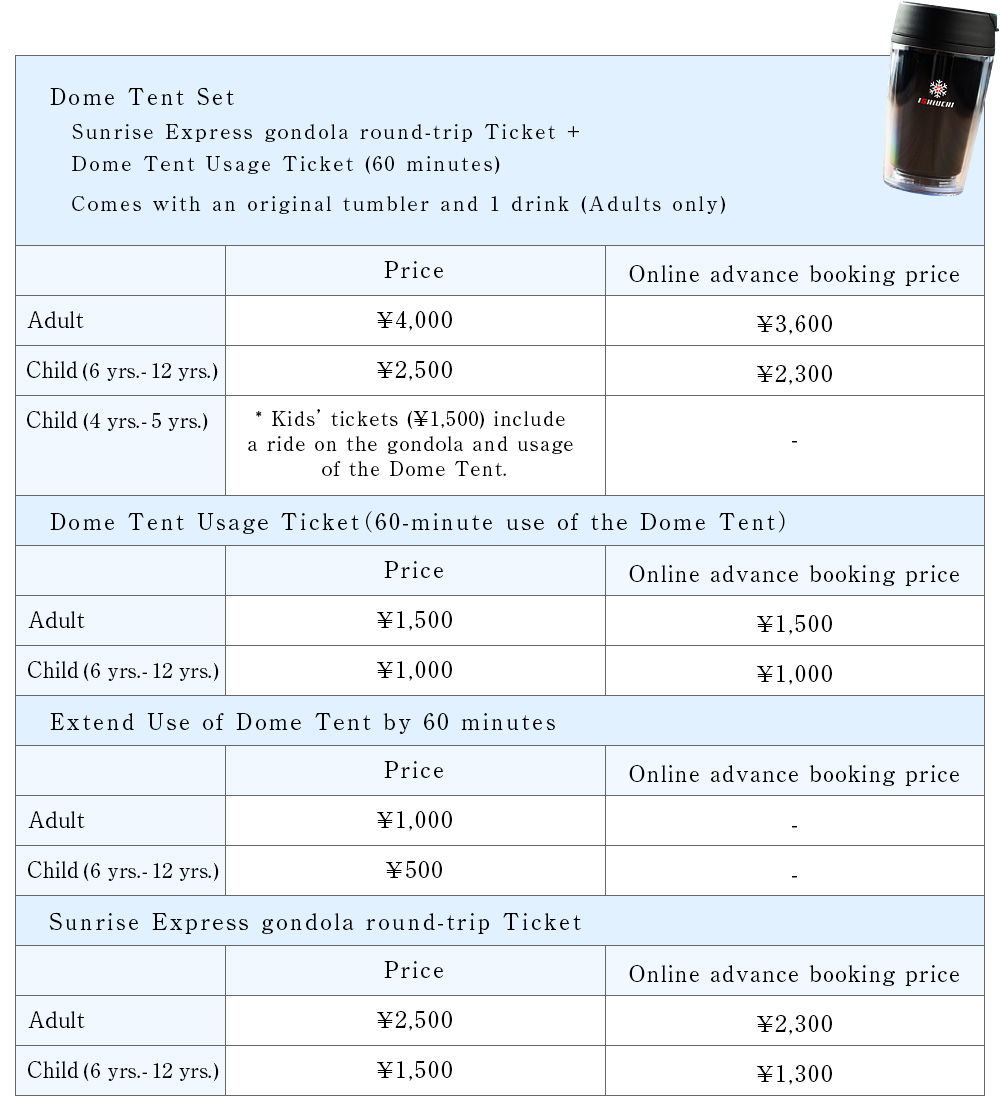 * Admission fee includes 60-minute use of the Dome Tent and free use of snow activities.
* Reminder: Due to weather or snow conditions or failure of equipment, we may entirely or partially change the operating period, hours or operating content or close without prior notice.
Please check the most updated information on our official website.
* Children under 3 years old are free of charge.
Access to Snow Garden
Only 7 minutes to the Snow Garden by the gondola cabin (Sunrise Express) from the main entrance of Ishiuchi Maruyama Ski Resort.
It will take you to a panoramic view point in the brink of an eye!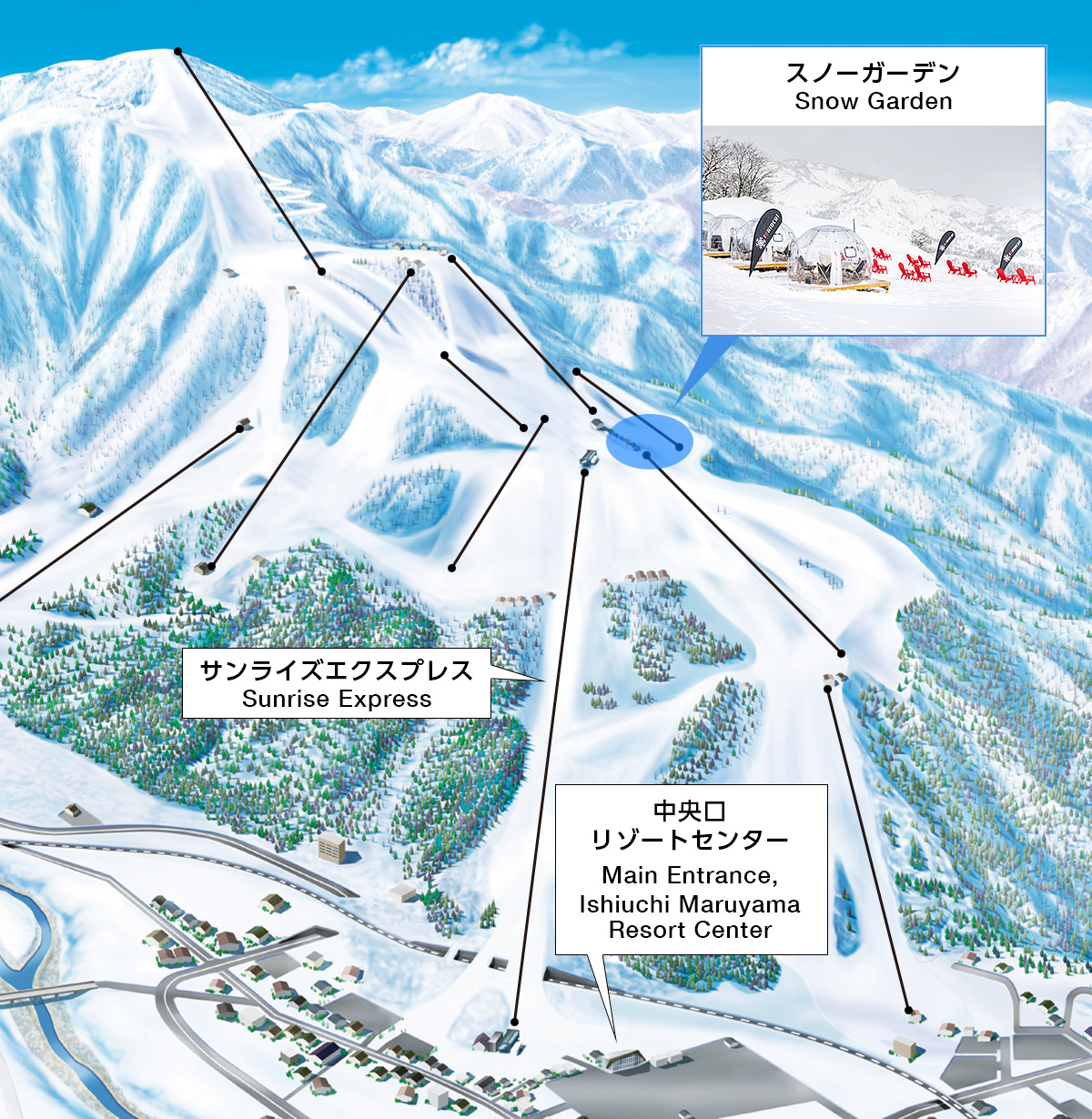 Area Map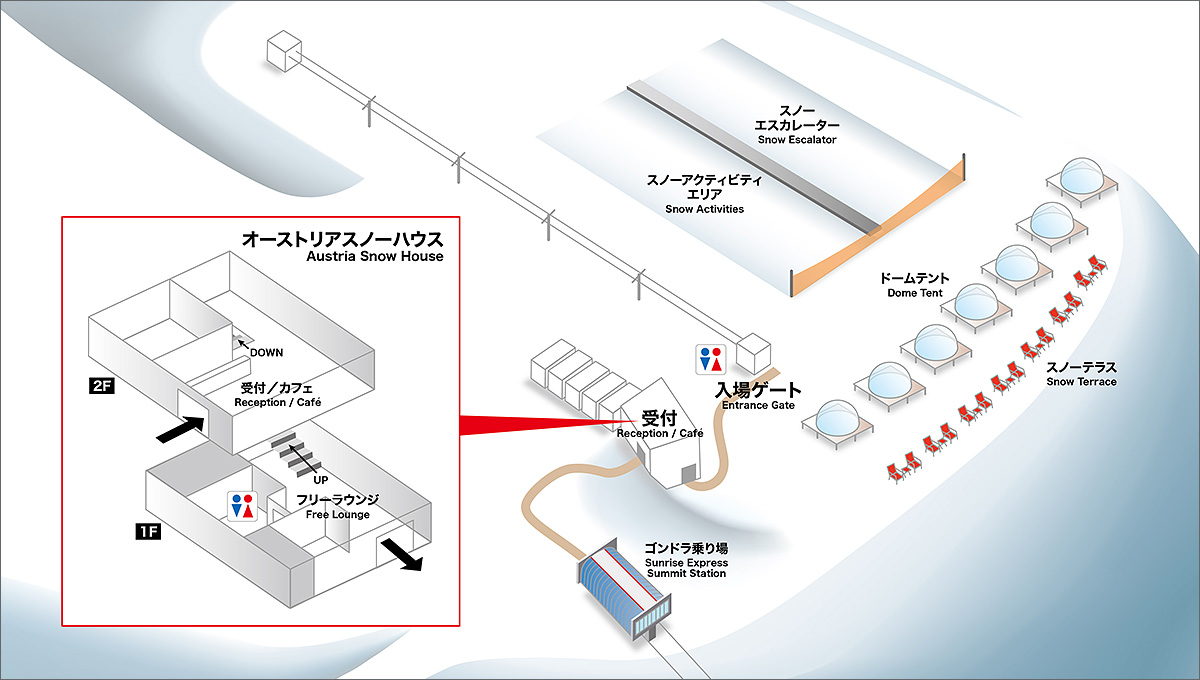 Q&A
Is the Snow Garden cold?
The Snow Garden is located on a snowy mountain hillside at an altitude of about 550m and the temperature is around 0 to 10 ℃.
If you want to enjoy the outdoor area, please have snow wear on with snow boots.
Rental wear and boots are available at the Resort Center.
Are you pet friendly?
Pets are not allowed in all the indoor facilities including the Dome Tent.
Even in outdoor areas, pets must be kept in a cage.
As we do not rent a cage, please bring a cage to keep the pets' body completely hidden.
May I bring my own food or drinks?
Drinks are allowed but food is not allowed inside the Snow Garden area except takeout food purchased in our ski resort.
Please throw out food garbage in the designated area or take it home with you.
Do I need a reservation to use the Dome Tent?
A Dome Tent can be hired for 60 minutes intervals.
Subject to availability. It can be hired on the same day. However, an advance booking is recommended.
* Advance bookings are accepted until 4:00 P.M. of the previous day.
How long can I use the Dome Tent?
Once your booking time (60 minutes) has passed, you will be required to leave. However, if there are no bookings in the following slots, you may extend it every 60 minutes (fees apply).
What is included in the admission fee?
The admission fee of the Snow Garden includes usage of the Snow Terrace area, the Dome Tent (60 minutes) and snow activities. The "Snow Garden Set" plan includes a round-trip ticket on the gondola cabin and complimentary gift.
If you have a lift ticket, please purchase the "Snow Garden Entry Ticket".
What facility is there in the Dome Tent?
It's equipped with a heater, warm enough to stay comfortable even in casual wear.
Moreover, there are tables, chairs, blankets, kids' chairs, goods to play with snow, sanitizer, paper towels, wet tissue paper and Wi-Fi connection, which can be used freely.
Reminder
Due to the snow or weather conditions, high winds, natural disasters or any other unforeseen events, we may need to close or change operating time or content, entirely or partially.
Please check our official website prior to visiting.